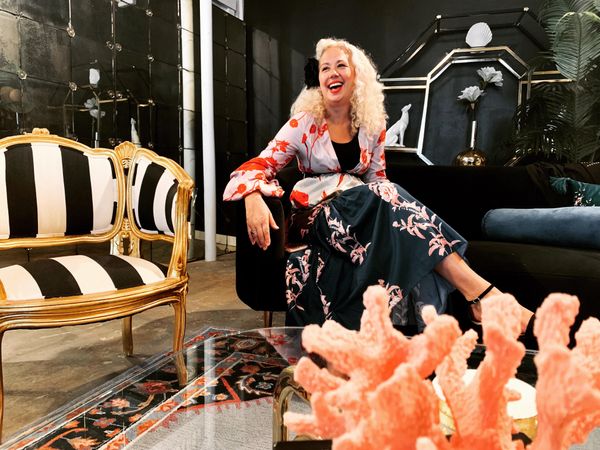 Jeanette Chivvis' innovative and effortless style can be seen on television, the red carpet, international fashion editorials, emerging designers lookbooks, and commercial ads all over the world. Her creative vision is defined by juxtaposing opposites and mixing vintage with contemporary to achieve her signature style. Her trend forecasting and intuitive styling are two things that make this Texas bred stylist stand out in a sea of fashion wannabes.
Hailing from a small west Texas town, she poured herself into Vogue and Cosmo at the age of 9. Upon graduating from college, she was hired into the prestigious Executive buyer-training program for Foley's Department stores. She worked as a buyer a couple of years honing her skills in retail, buying, trend forecasting, and developing private label products. She was inspired by the designers she worked with, and became motivated to design her own line: "Nay-Nay LA."
With stars in her eyes as big as Texas, she made her move to Los Angeles where she debuted her own line, "Nay-Nay LA," which sold in over 60 stores nationally and internationally.
Off the success of her line, she opened a celebrity hot spot boutique, "Sugar On La Brea" with one of her Texas girlfriends. Right away, the southern infused boutique caught the attention of the LA fashion world. Fox and Good Day LA rated Sugar in the 10 best boutiques. It was featured in over 70 magazines nationally and internationally. It was at Sugar that Jeanette started to style celebrities for the red carpet. She became a fashion trend expert for the Style network, E! News, and The Fashion Team on TV Guide Channel, and an editorial lead stylist for magazines. Jeanette's celebrity clientele included Paris Hilton, Kim Kardashian, Scarlett Johansson, Tiffany, Amy Poehler, Isla Fischer, Patricia Arquette, Kyle Richards, Maureen McCormick and more.
Missing her home state of Texas after nearly a decade in "LaLa" Land, Jeanette decided to come home and settle down.
She opened a contemporary wholesale showroom in Dallas. She represents designers and helps them develop their brands and continues to be one of the most sought after lead fashion, prop and set stylist in the south for editorials, social media content creative, e-commerce, commercials and advertising.